Thanks for Thanksgiving Cocktails!
Thanksgiving is next week, and this cold front in Austin sure is making us hungry for our favorite Thanksgiving treats. But in order to get to the feast, it requires a lot of time in the kitchen and dealing with family mayhem! Make all that hard work in a little easier and lower your holiday stress level with these delicious Thanksgiving inspired cocktails.
Pumpkin Spice Nog Martini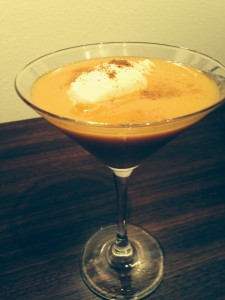 12 eggs, separated
1 bottle of spiced rum
½ pound sugar, divided
5 cups whole milk
1 teaspoon of vanilla extract
½ teaspoon cinnamon
½ cup of pumpkin puree
Whipped cream
Keep the egg whites in the refrigerator for now. Beat the yolks with a hand mixer until thickened, then add the sugar and beat more, until much thicker and creamier. Carefully stir in the rum, milk, vanilla, cinnamon, and pumpkin, then chill the mixture in the fridge for at least 2 hours.
After the pumpkin mixture has set, combine the egg whites and the rest of the sugar and beat with the hand mixer until soft peaks are formed. Fold the egg whites into the pumpkin mix. Serve with whipped cream and some cinnamon.
Cranberry and Apple Sangria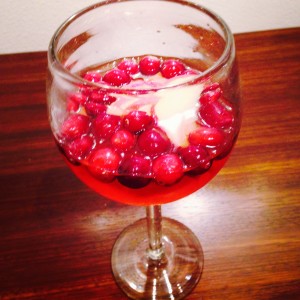 1 cup water
1 cup sugar
2 cinnamon sticks
4 cloves
3 allspice berries
1 vanilla bean, opened
2 apples (we used Pink Lady and it was delicious!), sliced thickly
2 cups cranberries
One bottle of rose
1/3 cup ruby port
1/3 cup Cointreau
1/3 cup cranberry juice
Add the water, sugar, vanilla bean, cinnamon, allspice, and cloves into a saucepan. Simmer over medium low heat for about 15 minutes, until a syrup is formed. Strain into a bowl, then add the apples and cranberries. Cover and allow to cool in the fridge overnight.
Combine about ¾ cup of the fruit syrup with the wine, port, Cointreau, and cranberry juice in a pitcher. Chill for at least an hour before serving.