Our friend, the Slow Cooker
The slow cooker is an underappreciated, but fantastic kitchen tool. Just load it up with your favorite ingredients, turn it on, and let it work its magic while you go on about your day. A few hours later, you have a delicious, flavorful, healthy, and tenderly cooked dinner, all with an easy cleanup. It does all the work for you, but your food tastes like you've been slaving over it for hours! It's also great in winter for making your favorite hearty soups and stews to warm up with. You can find a slow cooker pretty easily, and at a great price too. No need to worry about burning or overcooking something; the easily adjusted heat levels on the slower cooker takes all the guesswork out. It really is the miracle kitchen tool! Here are some of our favorite slow cooker recipes to try out.
Beef Bourguignon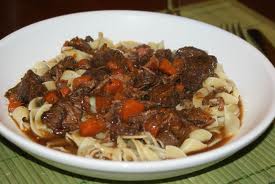 1 tablespoon of extra virgin olive oil
6 slices of bacon, cut into small chunks
2 lbs. of beef chuck or beef stew meat, trimmed ad cut into 1 inch cubes
3 large carrots, sliced into 1 inch chunks
2 yellow onions, cut into a larger chop
5 cloves of garlic, sliced
1 ½ cup red wine, preferably a Pinot Noir from Burgundy, France
1 tablespoon tomato paste
4 springs fresh thyme, leaves removed from the stems
¼ cup all purpose flour
1 lb Cremini mushrooms, halved
1 bay leaf
1 bunch parsley, chopped, with a few stems left whole
Egg noodles, to serve with
Salt and pepper, to taste.
Render bacon in a large skillet. Remove when crispy, leaving the fat in the pan.
Put flour in a bowl and season with salt and pepper. Coat the meat with the flour, shaking and tapping off the excess. Brown the meat in cubes in the bacon fat in batches. Remove from skillet. Add carrots, onions, mushrooms, and garlic. Allow to soften for 5-7 minutes. Deglaze pan with wine, add the bay leaf and the whole parsley stem, and transfer the contents of the pan over to the slow cooker. Add the beef to the slow cooker, cover, and cook on low for 7 hours. Garnish with chopped parsley and bacon and serve over egg noodles.
Sausage Cassoulet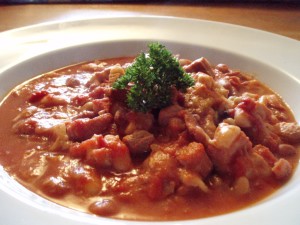 4 lb. boneless pork shoulder, trimmed of fat and cut into 8 pieces
2 tablespoons extra virgin olive oil
6 slices thick-cut bacon, cut crosswise into 1/2-inch strips
3 medium onions, chopped
2 cups dry white wine
1/4 cup tomato paste
1 can peeled San Marzano tomatoes, drained and roughly chopped
2 cups chicken broth
12 cups cooked Great Northern beans or other small white beans, drained
6 links of Andouille or chorizo sausage, pre-cooked and cut into thick slices
5 cloves of garlic, sliced
1/4 cup chopped fresh flat-leaf parsley
1 cup panko bread crumbs
Add the bacon to a large skillet. Cook until crispy and remove from the pan. Drain on paper towels and reserve.
Brown the pork in two batches and leave out of the pan for now.
Add the onions and garlic cook until soft, about 7 minutes. Deglaze with wine and let it reduce by about half, which should take about 8 minutes. Stir in the tomato paste, tomatoes and broth.
Add the contents of the pan to the slow cooker, then add in the beans, pork, and sausage. Cover and cook for 10 hours on low, until the pork is tender. Skim off the fat from the top.
Let the cassoulet stand at room temperature for about 30 minutes before serving. While the cassoulet is sitting, toast the panko for 1 or two minutes under the broiler until golden brown, then crumble in the bacon and mix in the chopped parsley. Serve the cassoulet with the breadcrumbs mixture on top.