Recipes on the Go!
There are a lot of advantages to cooking at home. It's cost effective. You control what goes in your food, so you can add and omit and add things for your health needs and flavor desires. So then why don't people cook at home more often? The excuse used most often is that people simply don't have enough time! Here are some of our favorite recipes to prepare in a flash. All of these recipes will take you about 15 to 30 minutes to cook up, and use quick and easy cooking techniques you can apply to future recipes to breeze right through them!
Garlicky Steak and Soba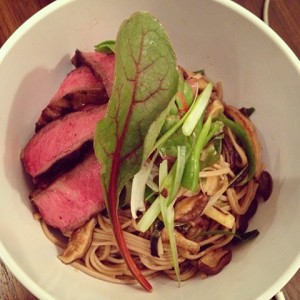 6 tablespoons of Tamari soy sauce
4 tablespoons of mirin,
6 tablespoons grape seed oil
1 tablespoon Worcestershire sauce
4 cloves of garlic, grated
1 ½ lbs of flatiron steak
1 cup beef stock
¾ lb shiitake mushrooms, stemmed and thinly sliced
10 scallions, cut into 3 inch sections and sliced lengthwise
1 12 ounce package of soba noodles
1 5 ounce pack of enoki mushrooms, trimmed and separated
A bunch of red shisho or red chard, shredded
Toasted white or black sesame seeds
Black pepper
In a bowl, combine the Worcestershire sauce, 2 tablespoons of tamari. 1 tablespoon mirin, 2 tablespoons oil, 2 of the grated garlic cloves, and some black pepper. Add the steak, mix together well, and allow the meat to marinate and come to room temperature for about 20-30 minutes.  Meanwhile, bring a pot of salted water to a boil for the soba.
Heat a grill pan or cast iron skillet over medium high heat. Add 2 tablespoons of grape seed oil, then place the steak in the pan. Cook for 4-5 minutes, flip over, and cook an additional 5 minutes. Cook a bit extra for well done meat. Move steak over to cutting board to rest. Drop the soba in the hot water for cooking.
In a small pot, heat up the stock with the rest of the tamari, garlic, and mirin. Heat up a large pan and cook the shiitakes. When they start to brown, add the scallions. At the very end of cooking the scallions, add the enoji mushrooms. Cook another minute and add the cooked veggies to the sauce.
Combine the sauce and the noodles and place in individual serving bowls. Slice the steak against the grain and divide amongst the bowls. Garnish with sesame seeds and shredded shisho.
Chicken Parmigiano Soup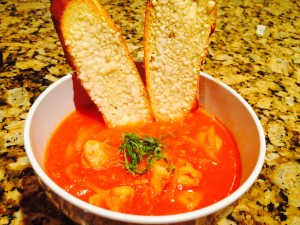 5 tablespoons extra virgin olive oil
4 chicken breasts, cut into bite size pieces
4 cloves garlic, chopped or finely grated, plus 1 more clove, cut in half
2 onions, sliced thinly
1 28 ounce can of chunky style crushed tomatoes (Look for Passata, if possible)
1 teaspoon red pepper flakes
1 quart chicken stock
1 cup of basil, chopped or chiffonade
8 slices of baguette, cut on a bias
1 cup of Parmigiano reggiano (or domestic Parmesan cheese), grated
Salt and pepper, to taste
Preheat the oven to 325 degrees.
Heat a big pot over medium heat and add some olive oil. Season chicken and cook in the pan until the small chunks are cooked thoroughly, about 4-5 minutes. Remove from the pot. Add the rest of the olive oil, then the onions, garlic, and pepper flakes. Cook for another 4 minutes. Add the tomatoes and stock, bring to a boil, then add the chicken back to the pot.
While the soup is cooking, take the baguette slices and drizzle them with olive oil, then season with salt and pepper. Toast in the oven for a few minutes, until golden brown, then rub with the halved garlic clove and top with some grated cheese. Put the break back in the oven for 1 minute, until the cheese is melted.
Add some of the basil to the soup, stir in, and serve the soup with the garlic-Parmigiano bread and some basil sprinkled on top.